Scooter rental companies
Our scooter rental vendors are in transition for 2022.
The scooter companies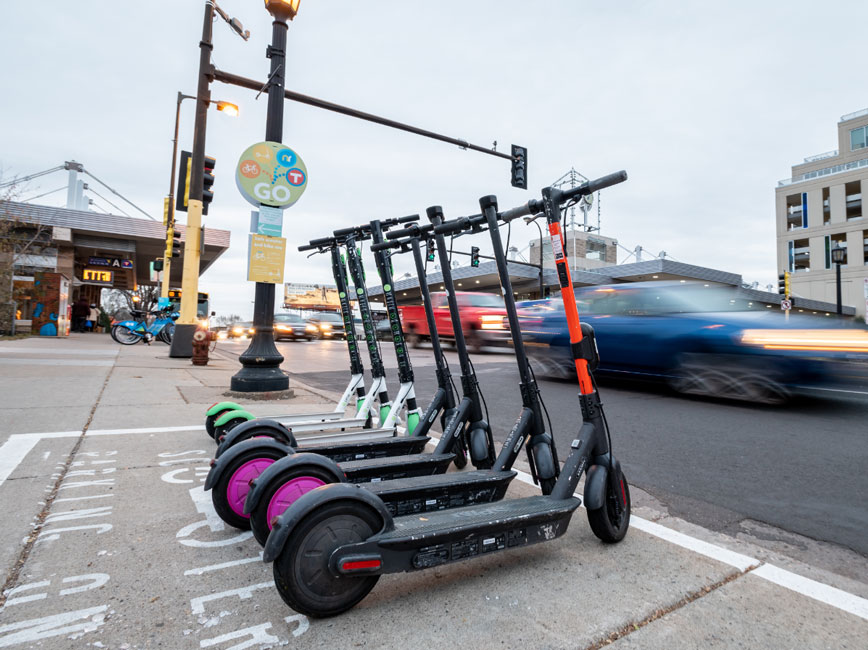 The City will select scooter vendors for 2022.
Selection process
For us to consider a vendor for the scooter program, vendors did the following:
submitted responses to an RFA
responses included specific questions to see how well the vendor aligned with program goals and rules
Selection process results
After reviewing responses, we decide on a vendor. The companies enter into license agreements to take part in the scooter program. You can find contract information on their websites.
Legal history of scooters in Minnesota
Motorized foot scooters are legal in Minnesota.
Cities across the country take different approaches to regulating the scooter rental companies. For example, some impound scooters and fine companies who fail to follow city rules. Each city or agency may have different scooter rules.
Minneapolis scooter ordinance
Minneapolis passed an ordinance to regulate scooters on our streets and sidewalks.
The ordinance requires scooter rental companies to:
Enter into a written agreement with the city

Follow specific conditions to help keep streets and sidewalks safe and orderly
How we manage scooter rentals
Our scooter sharing ordinance requires
Scooter sharing networks to have a license agreement with the City
They must follow rules for parking and in the right of way
State law already manages how low power vehicles (like scooters) operate in the street
City regulations intend to welcome new transportation options like motorized foot scooters. We still need networks to operate in an organized manner consistent with City rules.
The ordinance and license agreement provides specific guidance to 1) scooter companies and 2) the public on local rules for scooter sharing in the public right of way. This includes on City sidewalks.
The City has the right to remove scooters that are
Unattended
Blocking traffic or public infrastructure
Compromising public safety
Contact scooter companies
Our scooter company vendors are in transition for 2022. Check back for updates.